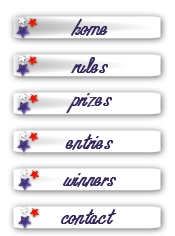 WELCOME
All types of photos are excepted
NO BASHING of any kind
Contest open from the 1st of each month-25th
Winners posted by the 30th.
Photos cannot be bigger than 100k
Please include this information along with photo: Name, Age, Gender, DOB, Age group,
Sender's name, relation to contestant, valid e-mail
Judging will be done by up to 4 judges- both female and male.
There will be no double crowning
Supreme winners can enter the next contest with a different photo
Age divisions: 0-12 months, 13-24 months, 2-4 years, 5-7 years, 8-10 years, 11 & up, Boys
E-mail photos to: pageants@starspangledsweethearts.com
Send fees through Paypal: pageants@starspangledsweethearts.com
Winners must claim prizes within 1 week
No refunds
Scores based on Overall appeal, beauty, & photogenic appeal.
Separate Portfolio supreme will be awarded if at least 15 contestants are entered in the portfolio division. Otherwise a division winner will be awarded and eligible for Grand Supreme!
Fees
$10 for unlimitied photos and all optionals.